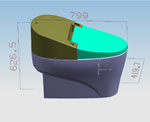 We are involved in the early development of our clients' new products, we make 3-demensional design for all sections, from product appearance to all details by using 3D design softwares first, and then stringently research and examine it. Flow analysis of plastics, assembly check and intervention examination are all carried out with the assistance of CAE softwares so as to ensure high-resolution and high quality early in the beginning stage.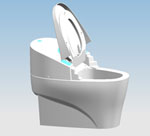 NC processing data Integration
Advanced CAM software is employed for outputting precise design data in order to provide efficient program for the processing all accessories on machine tool.
Mould design
3D mould design are done using efficient designing software(Pro/E). Design data of mould base, knockout pin, cooling system, and standard parts are inputted into server as our database which can be quickly outputted when designing. With the help of this system, we can make efficient, precise, and standardized mould design.